FilmQA™ Pro User Add-Ons
FilmQA™ Pro allows add ons implementing
Treatment Objects (FilmQA Pro data)
Tools (methods to edit and visualize treatment objects)
Treatment plan reader (methods to read Treatment Plan System files)
Bitmap comparison maps (methods to compare bitmaps, e.g. gamma map)
Calibration functions (functions to correlate calibration data).
FilmQA™ Pro is implemented using the .NET frame work and Add-ons are provided in .NET assemblies (*.dll libraries). .NET assemblies can be generated using any of the many .NET languages available (most widely used is C#, the language FilmQA Pro is written in). One of the Integrated development environments to create .NET assemblies is Microsoft Visual Studio - Microsoft provides a free of charge Visual Studio Express version sufficient to built add-ons for FilmQA™ Pro.
Each add-on type must implement specific interface definition that is part of the FilmQA Pro libraries.
Add-on management can be accessed via "Panel" menu bar item as shown below.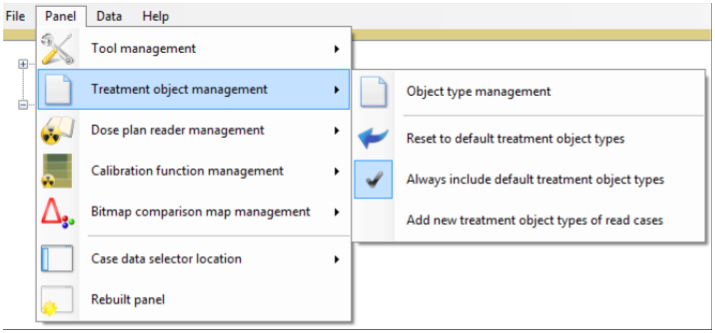 Assigned add-ons are saved together with the 'case data' configuration accessible underneath the 'case data selector' control via the

button as shown below.